Bridal bouquets are an essential element of a bride's wedding ensemble, and they have the power to speak volumes about her style, personality, and overall theme.
Bouquet Styles
Cascading Bouquet
These bouquets feature flowers that cascade down from the bride's hands. They create a romantic and elegant look, perfect for formal weddings. Cascading bouquets often incorporate long-stemmed flowers such as orchids, roses, or calla lilies, combined with greenery or trailing vines for added drama.
Hand-tied Bouquets
Hand-tied bouquets have a more relaxed and natural appearance. They are created by gathering flowers and securing them with ribbon or twine. Hand-tied bouquets can be designed to look loose, organic, or more structured, depending on the bride's preference. They are versatile and suit various wedding themes, from rustic to bohemian.
Unconventional Designs
For brides looking for something unique and non-traditional, unconventional bouquet designs offer endless possibilities. These can include geometric shapes, floral hoops, succulent bouquets, feather accents, or brooch bouquets. Unconventional designs allow brides to showcase their personality and create a memorable statement.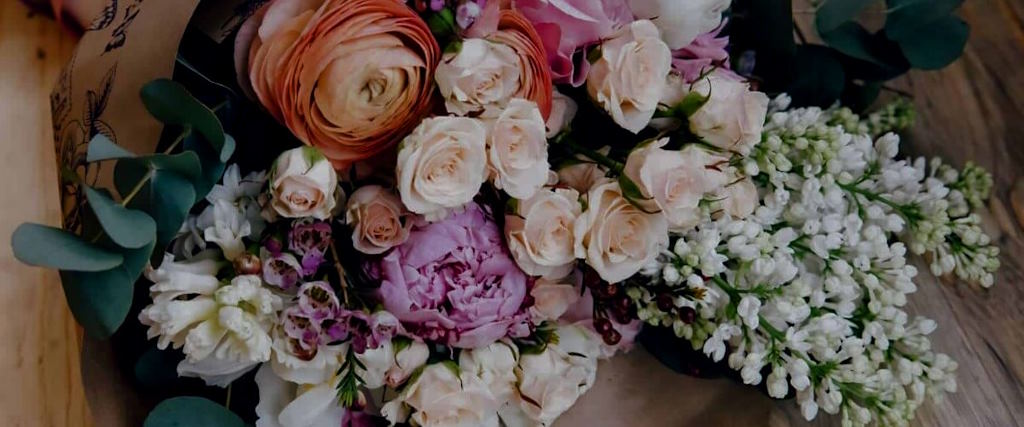 Popular Flower Choices and Color Palettes
Spring
Popular spring flowers include tulips, peonies, daffodils, hyacinths, and sweet peas. Soft pastel color palettes, such as blush, lavender, and peach, are often preferred during this season. These colors evoke a sense of freshness and new beginnings.
Summer
In summer, brides often choose vibrant and bold flowers like sunflowers, dahlias, zinnias, and roses. Color palettes can range from bright and cheerful yellows, oranges, and pinks to serene blues and purples, reflecting the season's warmth and energy.
Fall
Rustic and warm tones dominate fall wedding bouquets. Flowers like dahlias, chrysanthemums, asters, and roses in shades of burgundy, orange, deep red, and golden yellow are popular choices. Adding elements like dried wheat, berries, or foliage can enhance the autumnal feel.
Winter
Winter bouquets often feature elegant flowers such as amaryllis, anemones, roses, and lilies in colors like white, ivory, silver, and deep red. Combining these with evergreen foliage, pinecones, or metallic accents can create a festive and romantic bouquet.