Thinking outside the box can lead to truly unforgettable experiences when planning a wedding. Embracing quirky and unique spaces as wedding venues, such as art galleries, warehouses, and rooftop gardens, allows couples to infuse their special day with a modern and eclectic appeal.
Art Galleries: Where Love Meets Creativity
Art galleries offer a one-of-a-kind backdrop for couples seeking a unique wedding experience. These spaces exude an atmosphere of creativity and sophistication, providing an opportunity to immerse guests in the world of art. Showcase your artistic flair by incorporating elements that complement the gallery's aesthetic. Consider using bold and vibrant colors in your decor, incorporating art-inspired centerpieces, or displaying customized artwork that reflects your love story.
Warehouses: Industrial Elegance
Warehouses provide a blank canvas for couples who desire an urban and industrial wedding setting. The raw and minimalist charm of these spaces lends itself to creative transformations. Embrace the industrial vibe using exposed brick walls, metal accents, and Edison bulb lighting. Incorporate unconventional seating arrangements, such as lounge areas with comfortable sofas or mix-and-match vintage chairs. Create a contrast by pairing elegant floral arrangements with the rugged backdrop, combining softness with the venue's inherent edginess.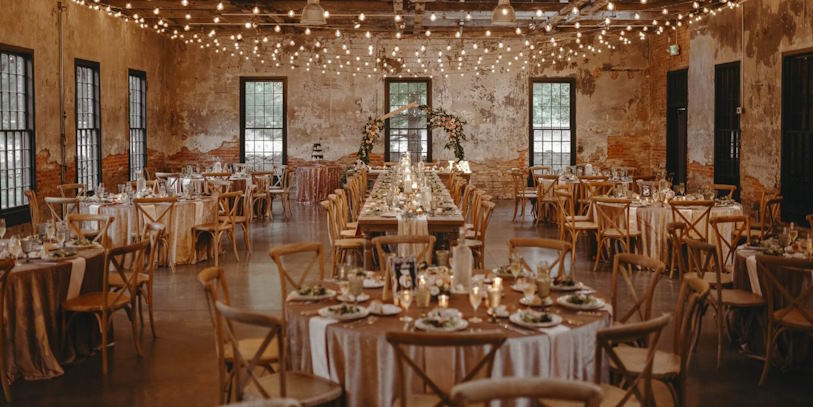 Rooftop Gardens: Elevated Romance
Rooftop gardens offer a breathtaking cityscape view, providing a romantic and intimate setting for your wedding celebration. The lush greenery and panoramic vistas add a touch of enchantment to the occasion. Highlight the venue's natural beauty by opting for organic and botanical elements in your decor. Incorporate hanging floral installations, potted plants, and twinkling lights to create a whimsical and intimate atmosphere. Maximize the view by arranging seating to allow guests to enjoy the stunning backdrop throughout the event.
Incorporating Venue Features into the Theme and Decor
Consider incorporating its distinct features into your wedding theme and decor to make the most of your chosen unconventional venue. Here are some ideas to spark inspiration:
Art Galleries
Use easels as unique signboards, create a gallery-style photo booth backdrop, or design table numbers inspired by famous artworks.
Warehouses
Hang fairy lights from the ceiling, utilize metal pipes as a display for escort cards, or repurpose wooden pallets as signs or tables.
Rooftop Gardens
Incorporate natural elements like leaves or flowers in your stationery design, use city skyline illustrations in your decor, or have a celestial-themed ceremony under the stars.